AGIS WS21 Portable Lightweight Power Wheelchair 33KG!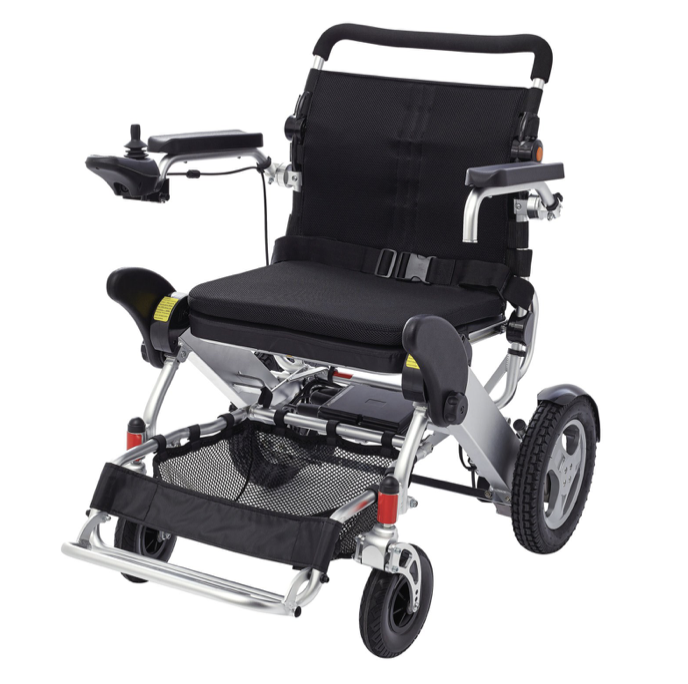 AGIS WS21 Portable Lightweight Power Wheelchair or Electric Wheelchair makes portability and transportation easy and convenient. It can support a weight capacity of up to 150kg. It is made with aluminium and well-constructed frames which achieves its solidity and safety. It comes with 12V x 2 – 20AH Lithium battery and has a powerful 24W 250W brushless motor rear-wheel drive. Front wheel is 8 inch and rear wheel is 12 inch. It can travel up to 25km.
It comes with a removable cushion and storage bag in case you need to bring some stuff along. It has a Joystick controller which can be mounted on the left or right side, as well as a comfortable armrest for you to rest on. It has an adjustable backrest, adjustable leg guards, adjustable footrest and anti-tipping wheels. Foldable in just seconds and it's the answer to portability!
Specifications
Wheelchair size ( L x W x H )

1049 x 690 x 990mm (41.3″ x 27.2″ x 39″) Unfold Size

838 x 690 x 439mm(33″ x 27.2″ x 17.3″) Folded Size

Net weight w/o batteries
29 kg
Net weight with batteries
33 kg
Max Load Capacity
150 kg
Front Wheel Size
Rear Wheel Size
Motor Power

24V 250W Brushless Motor Drive

Batteries Capacity
12V x 2 -20Ah
Est. Travelling Range
25km
Seat Depth
Seat Width
Seat Height (from floor to seat)
550mm (21.6″)
Backrest Height
500mm (19.6″)
* All features and specifications are subject to change without notice.